ENJOY THE ADULT/TEEN WORKOUT THAT PACKS A PUNCH!!!
With excitement, music and energy.
You will see and feel the results of this energy burning workout.
4 Payment Option. Drop in rate: $15 per Workout



1 Hour Workouts: Tuesdays & Thursdays 7 PM - Saturdays 9AM
Proper Workout Attire &Large Towel - Non-Marking Shoes
Boxing Gloves and wrist wraps required (available for purchase)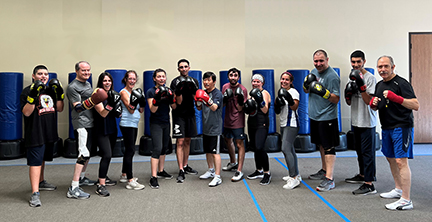 INTERNET SPECIAL KICKBOXING REGISTRATION
The Workout That Packs A Punch
Location: Manna's, 12285B World Trade Drive, San Diego CA 92128
Voice: 858-487-6470
After registration you will have four options:

Option 1) First Month $79 then $29.95 PayPal subcription payment monthly (Includes gloves & wraps)

Option 2) Pay on Location $49 Month to Month

Option 3) Pay on Location $49 Month first month and EFT $29 Month to Month

Option 4) Pay on Location for In Person Workout $15 per workout


In Person - One Hour Workout Times: Tuesday/Thursday 7PM and Saturday 9AM
Gloves and Wraps available for purchase on location.

It is required to complete Manna's 4 Part Application to participate, print and bring with.

Gloves, wraps and large towel are required at each of the workouts.
Work at your own speed, modify the workouts to fit your physical challenges and conditioning.
Many workout participants have burned over 1,000 calories. Start at any time of the month.